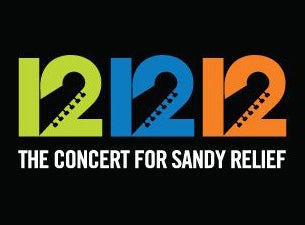 A Night Not Soon Forgotten
We here at Future Shock Music have discussed in previous postings the epic event that is about to unfold in NYC titled The Hurricane Sandy Relief concert dubbed the 12.12.12 ( for it's date). And with Wednesday right around the corner, we wanted to make sure to provide you with and accurate and up to date list of performers and news as it unfolds.

This event stands to be the biggest of the Sandy Relief benefit concerts to date, and how could it not be after all its being held in the greatest city in the world on one of the biggest stages known to man MSG (Madison Square Garden) and there is no shortage of hype circulating it. This concert is set to feature some of the biggest names in music currently, and a lineup of artists which continues to grow on a regular basis, and now includes the Rolling Stones.
Artist Lineup
Bruce Springsteen and the E-Street Band
Paul McCartney
The Who
Billy Joel
Bon Jovi
Alicia Keys
Eric Clapton
Kanye West
Chris Martin
Roger Waters
Eddie Vedder
Dave Grohl
With appearances also being made by Sean Combs ( P.Diddy Diddy, Puffy or what ever the fuck he is calling himself these days)
,
Adam Sandler, John Stewart and Chelsea Clinton tickets are being sold around the clock and are rapidly selling out but can still be purchased via StubHub.
Face value of said tickets start at $150 and go as high as $2,500, but with tickets in limited amounts and in high demand the scalping begins with tickets starting as high as $600 and going as high as $7,000. Although this event was set to be a charity fund raiser, its next to impossible to stop the greed of people especially during the holiday session. With that said we here at Future Shock Music are glad to see that not everyone is out for them selves with StubHub leading the way pledging to donate 100% of the proceeds to the Robin Hood Relief Fund for Sandy Victims.
Now if you do not have the means of attaining one of these high priced tickets or will not be in the greater NY area, no need to worry. You will not be left in the dark, James Dolan head of Cablevision and one of the concerts producers are promising that that all the action will be unveiled to an audience of 2 billion people live via the internet or on TV. As of right now the list of networks who will be broadcasting are as follows HBO, Showtime, VH1 Classic and public broadcasting stations.
The only thing left to ask is, Where were you the night of 12.12.12?